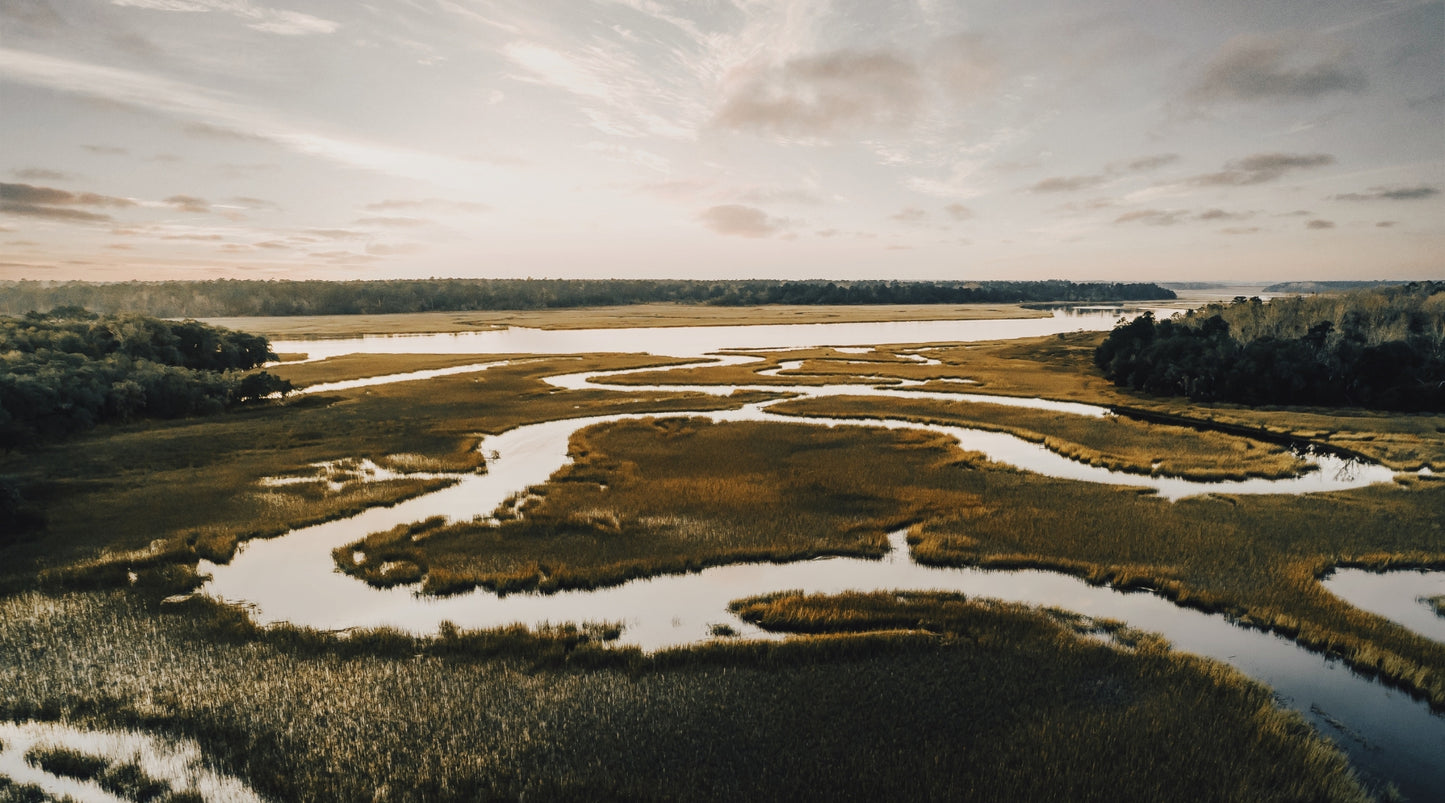 The South's 7 Natural Sporting Wonders
Magnolia League was born during a golf trip among the tall Georgia pines. Inspired by our shared passion for the sporting life and the South's stunning natural beauty. 
Beyond optimal function and feel, we wanted our products to inspire connection. To your authentic self, roots, and the natural world. 
Our company, product names, and sensory experiences honor the deep connections that made us who we are. 
We hope these 7 natural sporting wonders resonate or inspire your next adventure:
Blooming Southern botanicals & immaculate greens in

Augusta

. 
Georgia's

eco marine

wonderland and gorgeous beaches in the

Golden Isles

. 
The quail woods, whispering winds, & towering longleaf pines in

Thomasville

.
Majestic mountains, streams, wildlife, & outdoor adventure in

North Carolina

.  
The rugged yet refined charm of the beautiful

South Carolina lowcountry.

  
The open road & 10,000 years of history on the scenic

Natchez Trace Parkway

.
Horse Country in

Aiken, SC

& the Bluegrass Region of

Kentucky

.
Augusta in April
Sporting Traditions
: Unlike Any Other...The Masters. Bobby Jones. ANGC. 
Natural Inspiration: Spring Plant Life—Magnolias, Azaleas, Dogwoods.
The Masters is the embodiment of the South's sporting traditions and natural beauty. 
The first full week in April springs everything to life. Symbolized by the blooming magnolias, azaleas, and dogwoods that make the balmy air smell sweet. Making a perfect day at the links even better. 
For those fortunate enough to score a pass, The Masters is an unparalleled experience. Despite growing into a multi-media sports empire, the club maintains the traditions and history that make it special. You can still feel Bobby Jones' effortless grace as you stroll the course at ease. 
See Also: Pinehurst 
Golden Isles' Ocean Wonderland
Sporting Traditions: Oceanside Links. Sunset Bagpipers. Beach Days.
Natural Beauty: Pristine Atlantic Waters. Marine Life Conservation. Sea Turtles & Wildlife.
The Golden Isles are a Georgia treasure consisting of four islands. Each with a distinct personality yet all gorgeous, protected, and full of pristine beaches. 
Sea Island is the crown jewel. With world-class oceanside golf, every sporting activity under the sun, and a storied history littered with U.S. presidents and celebrity guests. 
Little St. Simons is one of the world's leading eco-luxury destinations. Jekyll Island has a gilded age charm. St. Simons has postcard beaches dripping with spanish moss. 
See Also: Florida's 30A
Thomasville's Quail Woods
Sporting Traditions: Unrivaled Bird Hunting. Horse-Drawn Wagons. Covey Rise. 
Natural Inspiration: Longleaf Pines. Live Oaks. Whispering Winds. 
"We rode on through the sweet-smelling pinelands. Bluebirds were warbling sunnily in the aromatic air. Woodpeckers were noisily calling and hammering. Behind us I heard the quail that we had been after, already calling together. High in the dreamy pines a warm wind murmured. All life seemed contented; I know that I was." – Archibald Rutledge, Bolio and Other Dogs, 1930
There are plenty of quail hunting operations scattered across the South. But you will not find the number of properties and the quality of habitat that exist in Thomasville and the surrounding North Florida-Georgia plantation belt. 
See Also: 9 Standout Southern Lodges
North Carolina Mountains
Sporting Traditions: The Great Outdoors. Fly Fishing. Golf and Boating.
Natural Inspiration: Majestic Mountains. Crystal Clear Lakes. Wildflower Streams. 
This stretch of the Western North Carolina mountains—running through Highlands, Cashiers, and Brevard along U.S. Route 64—is full of outdoor adventure & intoxicating natural beauty. 
Waterfalls over fern-covered rocks, blossoming mountain laurel, and trout-filled streams offer a deep connection to the natural world. 
The crisp mountain air provides soothing refuge during the humid summer months. Providing the ideal climate, landscape, and community for the sporting life. 
See Also: Wild West Virginia, Go West (Wyoming, Montana, Idaho, Oregon)
Rugged Yet Refined Lowcountry Charm
Sporting Traditions: Saltwater Fishing. Golf. Hunting and Shooting.
Natural Inspiration: Marshland. Ocean Tides. Dripping Spanish Moss. 
Rugged yet refined. Untamed nature meets Charleston sophistication. Welcoming porches of historic mansions and shrimper dive bars. The juxtapositions are one of the many charms of the captivating lowcountry region of South Carolina and Georgia. 
For a sporting and nature enthusiast, the region features too many destinations to list—the regions of Charleston, Beaufort, & Hilton Head are all some of the nation's leading tourism destinations with an abundance of waterfront sporting communities within close proximity. 
Each destination offers a sporting paradise that conserves the lowcountry landscapes and culture that make the region special. 
See Also: Saint Helena Island, Bray's Island, Kiawah Island. 
The Natchez Trace Open Road
Sporting Traditions: Biking, Hiking, Taking Curves Like Bo & Luke.
Natural Inspiration: 10,000 Years of All-American History, Tobacco Farms, Red Clay. 
This 444 mile road from Nashville to Natchez, MS is a journey through centuries of American history. Dating back to Native American tribes who called the area home to America's expansion and boatman floating goods along the Mississippi River. 
Having spent formative years in Nashville, Alabama, & Mississippi—the route is a personal journey through my own history. Driving along this scenic winding road, without gas stations or billboards, is a head-clearing expedition where decisions become clear and cares drift away in the wind. 
Along the way, this All-American road brings encounters with nature, history, music, & much more. 
See Also: Blue Ridge Parkway, Ozark National Forest Scenic Byway ("Pig Trail") 
America's Horse Country
Sporting Traditions: Aiken Polo, Bluegrass Thoroughbreds, The Most Exciting Two Minutes in Sports.
Natural Inspiration: Thundering Hooves, Blueish-Green Grass, Unbridled Spirit 
Horses are a longstanding tradition in the South. Particularly in Aiken (SC), Lexington (KY), & Middleburg (VA). 
Each town is centered around the equestrian lifestyle—polo, fox hunting, horse breeding, riding, thrilling horse races & opulent steeplechase infields. 
Looking deeper, you see a special bond between man, horse, and nature. Awakening a harmonious connection that centers you in the world—building your authentic self and confidence.