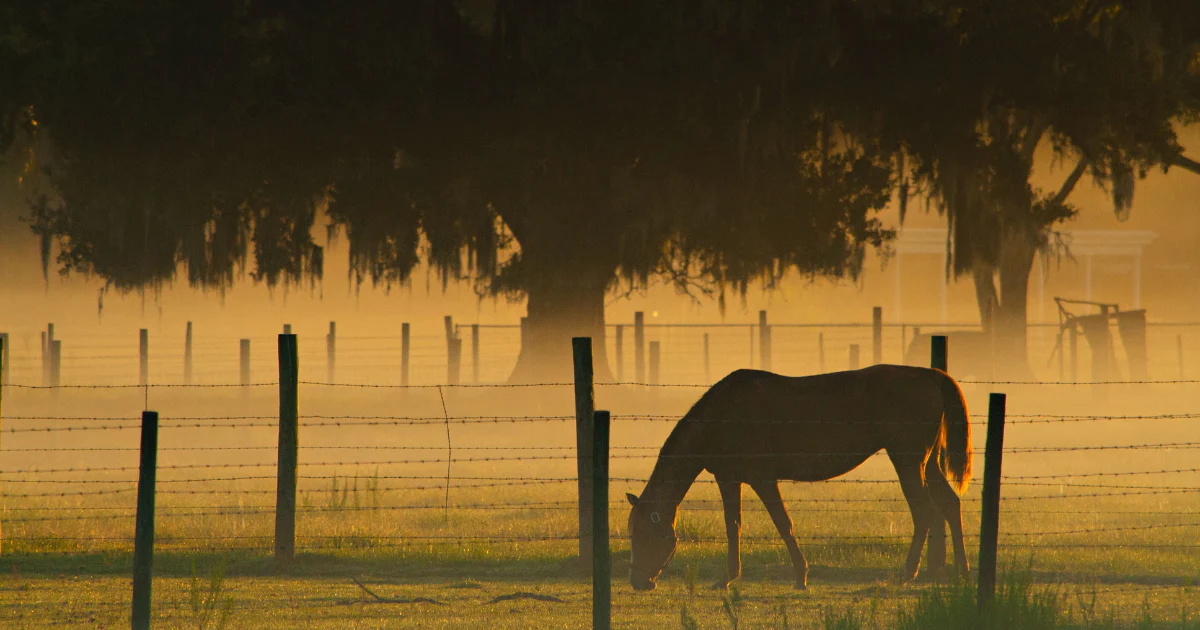 Welcome to Thoroughbred Country: Aiken, SC
Polo, the "sport of kings," may conjure images of jet-setting elitists swinging mallets in the Hamptons. 
But some of the world's best polo is played in Aiken, SC—a super charming and history-rich town 20 minutes outside of Augusta. 
Named the South's best small town, Aiken's a top destination for equestrians and non-equestrians alike. Here's how you can spend the perfect weekend in Aiken:
History:

 

The Winter Colony origins that brought Northern barons, such as the Rockefellers and Vanderbilts, to the "Sporting Capital of the South." 

 
What to Do:

 

Watch a polo match, tailgate at 

Steeplechase

, or enjoy the "Blessing of the Hounds" tradition on Thanksgiving. 
Where to Stay:

 

The Wilcox

 is a South Carolina landmark and one of the South's finest hotels. 

Rose Hill Inn

 is a historic mansion occupying an entire city block. 

 
Golf:

 

Excellent clubs and proximity to Augusta make Aiken a 

prime golf destination

. The area includes renowned courses such as Sage Valley, Palmetto, and Aiken Golf Club. 
How Aiken Became the "Sporting Capital of the South" 
In the late 1800s, wealthy Northern industrialists sought refuge from harsh winters and fertile clay soil for their horses. Word spread of the pine-scented air, loamy land, and stables that made Aiken the perfect sporting destination. 
Enter the Hitchcocks. Thomas Hitchcock Sr., a 10-goal polo player, established the Aiken Winter Colony with fellow blue blood William C. Whitney. 
The Hitchcocks spent every winter at their 3,000 acre Aiken estate and attracted other Gilded Age aristocrats—such as George H. "Pete" Bostwick, Madeleine Astor, and William Kissam Vanderbilt—to Aiken's Winter Colony. 
Tommy Hitchcock Jr. was to 1920s polo as Bobby Jones was to golf or Babe Ruth was to baseball. A larger than life figure that led the Americans to their first victory in the International Polo Cup, and played a large role in the winning of World War II. 
The Hitchock and Winter Colony legacy remains strong in Aiken today. There are fox hunts, steeplechases, polo matches and other equestrian events. The sidewalks even have life-size fiberglass horses. 
In the center of the city is the Hitchcock Woods, one of the largest urban forests in America, a nearly 2,000-acre preserve with hills and trails meant for jumps and hunts.
What to Do in Aiken 
Polo 
Polo's no leisurely lawn sport. It's a physical, exhilarating, high-speed game. Top athletes swinging heavy mallets while riding at high speeds. In Aiken, matches are open to the public during the fall and spring season. Here's where to watch in America's polo capital:  
Keep reading to learn more about polo, what to expect, and what to wear to a match. But first, discover Aiken's most popular tradition...
Aiken Steeplechase 
Fast horses, fancy clothes, and big tailgates at this quintessential Aiken experience. Aiken's largest sporting tradition—attracting around 20,000 patrons—occurs in the fall (often late October) and spring (often late March).
Get a feel for the action in this video:
Blessing of the Hounds on Thanksgiving 
A traditional Aiken Thanksgiving includes turkey, family, and an annual blessing. In this case, it's the Blessing of the Hounds—marking the official start of fox hunting season on Thanksgiving day. 
An Episcopal priest has blessed those who braved the hunt for over 100 years. Visitors grab bloodies and bagels before gathering at the famous Hitchcock Woods. The nation's oldest  "drag hunt." Meaning hounds chase the scent of a fox rather than live animals.
Aiken Christmastime 
Christmas festivities rank among the best in the South. The season kicks off with the annual tree lighting downtown. The cozy shops stay open later as the streets glow. 
The Wilcox hotel spreads cheer all season long. Kids love the signature Elf Tuck—complete with milk and cookies.    
Best Golf in Aiken 
With the rich South Carolina golf tradition, and famed Augusta National next door, it's no wonder Aiken offers world-class golf. Here's where to play: 
Aiken Golf Club

: this Donald Ross designed course is the "best golf club you've never heard of" according to Golf Magazine.  
Sage Valley Golf Club

: If you're unable to play Augusta, this is as close as it comes to the real thing. Real estate developer Weldon Wyatt unashamedly built the course in the mold of its famous neighbor. 
Palmetto Golf Club

: The nation's 2nd oldest golf club is considered one of the state's best. Founded by Tom Hitchcock Sr.,the club opens doors to non-members during Masters week.  
Polo 101 
Aiken polo welcomes all patrons. However, when you attend your first polo match, you may feel like people are speaking a different language. 
Here's a glossary of key terms to get you up to speed: 
Chukker

: a period of play; like a "quarter" in other sports. Each chukker lasts seven and a half minutes. There are four or six chukkers per game. At each chukker, players leave the field and return with fresh horses. 
Bump

: a player may ride into another opponent to disrupt their shot. Like a "check" in hockey. Though a bump can be hard, it cannot endanger another player. A bump angle cannot exceed 45 degrees. 
Divot

: a piece of cut loose from the field, caused by galloping horses. Like a divot in golf. Fans of

Pretty Women

will recall the halftime "divot stomp" tradition, where patrons are invited onto the field. 
Pony

: although they are full-size horses, polo mounts are called ponies. 
Goal

: the purpose of the game is to score a goal by hitting the ball through the goalposts. It doesn't matter how high the ball passes. Players are ranked by how many goals they are, like a handicap in golf. A 10-goal player is considered one of the world's best. 
For a full glossary of terms, here's Aiken Polo Club's introduction to the game.
What to Wear to a Polo Match
The game's most famous and swaggering player (and Ralph Lauren model), Nacho Figueras, compiled this guide to polo style.
Here's Nacho's take on polo style:
"The beauty of polo is that you don't have to be fancy to attend or even play." However, not all matches are created equal. At matches you'll see everything from blazers to t-shirts. He adds the key is to wear "whatever you feel comfortable with." 
See Aiken 
A visit to Aiken is good for the sporting soul. It's a special place and easily accessible to those in the South. 
Aiken's an ideal weekend destination. Or, if you're lucky enough to get tickets, extend your Masters trip and drive 20 minutes to "Thoroughbred Country." 
Additional resources for your trip to Aiken, SC: