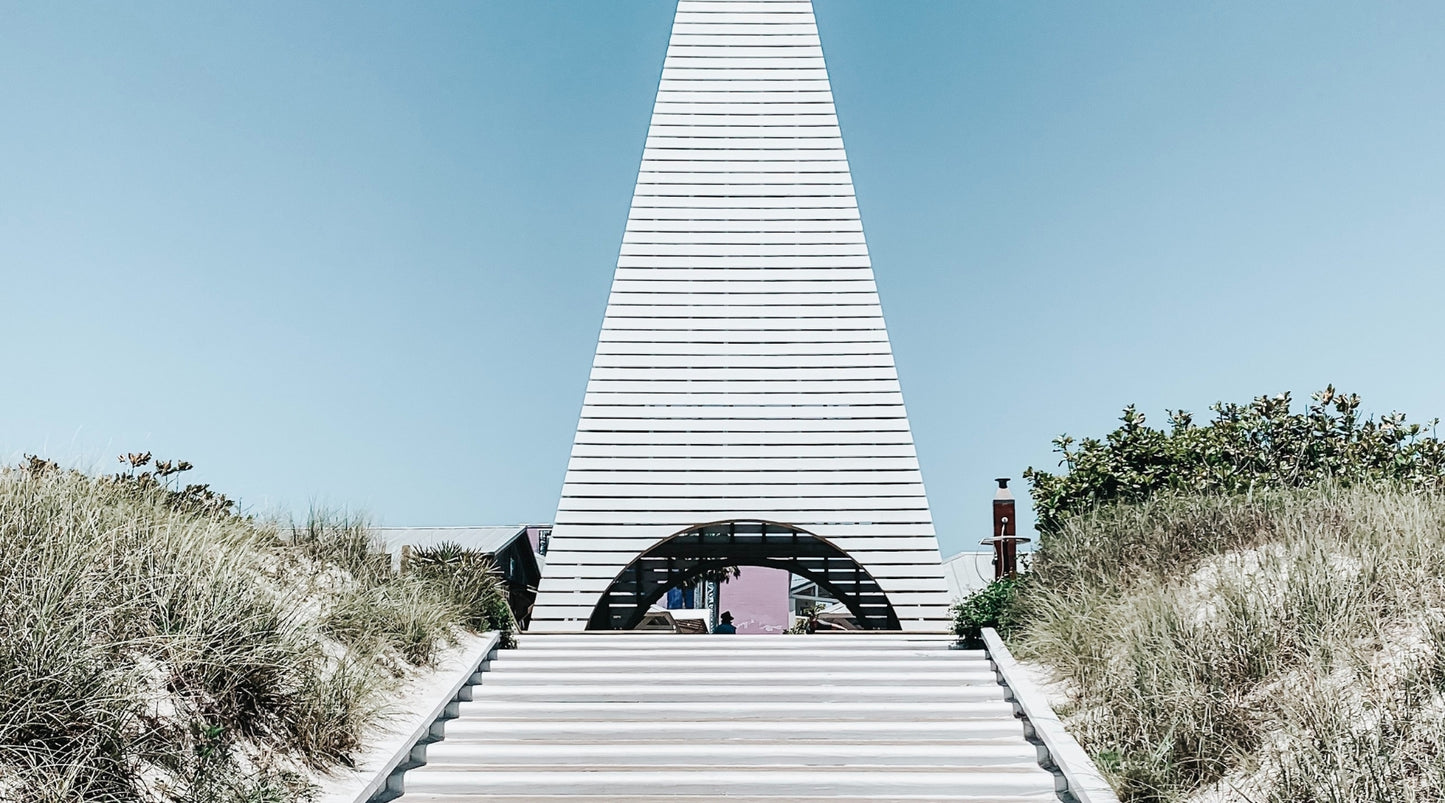 Get to Know the Communities of the 30A 
Northeasterners can have Palm Beach and Boca Raton—just give me a cool 30A buzz, some tasty waves, and I'm fine. 
State Road 30A is a 20 mile stretch between Panama City and Destin. Those who've visited know it's much more than a coastal road, it's a state of mind and beach mecca for those across the South—particularly Alabama, Tennessee, Georgia, and Texas. 
30A is made up of different communities. Each has their own vibe and personality—but all are connected and easily accessible from one another. 
Read on to discover what to do, where to eat, and insider tips on the 30A communities: 
Seaside:

a picture-perfect master planned community that's ideal for families; town square serves as the 30A's connective tissue. 
Alys Beach:

the newest community features stunning architecture reminiscent of the Mediterranean coast. 
Rosemary Beach:

a refined, yet relaxed, vibe with abundant green space and excellent shops, restaurants, & galleries. 
Grayton Beach:

laid back and free spirited, Grayton is a throwback to the Florida beach towns of old with wonderful dive bars, art, and seafood. 
Now get to know the 30A before the secret gets out!
Seaside
Friendly, well-to-do families from Birmingham, Nashville, or Texas that invite neighbors over for a porch cocktail while the kids get ice cream.
What to Do & Where to Eat in Seaside 
Seaside is layed out so perfectly, it almost feels like a movie set. It was. "The Truman Show" was set in this master planned community of pastel homes, porches, and white picket fences.  
The town square is the gathering place for Seaside and larger 30A. It features the iconic post office—in addition to an amphitheater, local shops, restaurants, and airstream trailer food trucks.
The Seaside Style store is a staple for the SEC casual look ("Old Town…New Ways" shirts). Favorite bites include the World Famous Pickles airstream. My wife loves the frozé from Crepes du Soleil. We dine at The Great Southern Cafe each visit.
The WaterColor Inn is a quick walk/bike away and a distinctive luxury resort. Numerous home rentals are available in Seaside or nearby Seagrove Beach.  Staying in Seagrove means beach access without paying for a chair. It's also home to the Seagrove Village Market and their delicious po' boys. 
Alys Beach
Eccentric thrillionaire who builds an impeccably designed beachside compound after selling his company.
What to Do & Where to Eat in Alys Beach
Alys was recently ranked #3 in Architecture Digest's list of 55 Most Beautiful Towns in America. This design-centric, New Urbanism village blends the best architectural features from Bermuda and Mediterranean-style homes. 
The stunning architecture makes it fun to walk or bike. Sections of plants are edible—such as "Mojito Alley" (mint and lemon), Daiquiri Garden (strawberry and banana), and Lake Marilyn (4 types of blueberry). 
If you're not foraging plants for meals, George's is the popular restaurant here—with fresh seafood and calamari. The Citizen is another beloved destination.
As the newest community, Alys is still developing; on track to double in size within 3 years. Note the beaches are for residents and guests only. Plan accordingly.
Rosemary Beach
Your classy, refined older sister in Charleston who knows how to let loose once the wine comes out. 
What to Do & Where to Eat in Rosemary Beach
The cobblestone streets, and West Indies/New Orleans architecture, gives Rosemary a European vibe. You'll find discerning boutiques and galleries along with spirited happy hours. The town has abundant greenways and pedestrian streets—designed to be explored by bike or foot. 
For dinner, put your name on the waitlist for Pescado's rooftop while you shop around and explore. The view is spectacular for sunset. The Pearl Hotel's Havana Bar & Rooftop Lounge also feature Gulf views. 
Rosemary is a tennis lover's paradise. The Rosemary Beach Racquet Club, named one of the best in the US, is available to guests renting through the Rosemary Beach Cottage Rental Company.
Grayton Beach 
Your lovable, laid-back cousin who spent his college years following Widespread Panic and his 20s as a fly fishing guide in Colorado.
What to Do & Where to Eat in Rosemary Beach
Grayton is a genuine old Florida beach town. The unofficial motto: "Nice dogs, strange people." Grayton has a laid back, artsy vibe full of character.  
Grayton is all about the outdoors. Grayton Beach State Park includes Western Lake, kayak rentals, and bountiful wildlife. Grayton Beach Volleyball has nets up during warm months so you can live out your "Top Gun" fantasies. 
Fishing boat charters are everywhere—as are the Grouper, Snapper or Triggerfish. If you prefer others to catch your food, check out Goatfeathers Seafood Market for catches straight from the gulf.
Grayton's best known haunt is the legendary dive Red Bar, recently rebuilt after a fire in 2019. Outdoor art gallery Grayt Wall brings the community together. Sample flights at Grayton Beer. Our favorite 30A oyster spot is Hurricane Oyster Bar & Grill—you can make a meal of oysters and peel and eat shrimp during happy hour.
Learn more about Grayton Beach in this video:
30A: The South's Best-Kept Beach Secret  
I started coming to the 30A as a kid. My grandfather's beach house became the de facto multi-generational gathering place, creating treasured memories. My family sold the house after he died. But I wanted to keep the tradition alive.
I kept coming back and made sure to visit at least once a year. Our family beach house and my grandfather may be gone—but the connection to him, my family, and the magical emerald waves live on.
The white sand and mesmerizing color of 30A is an unforgettable sight that connects us to what matters in life. Find some tasty waves and see the South's best-kept beach secret.