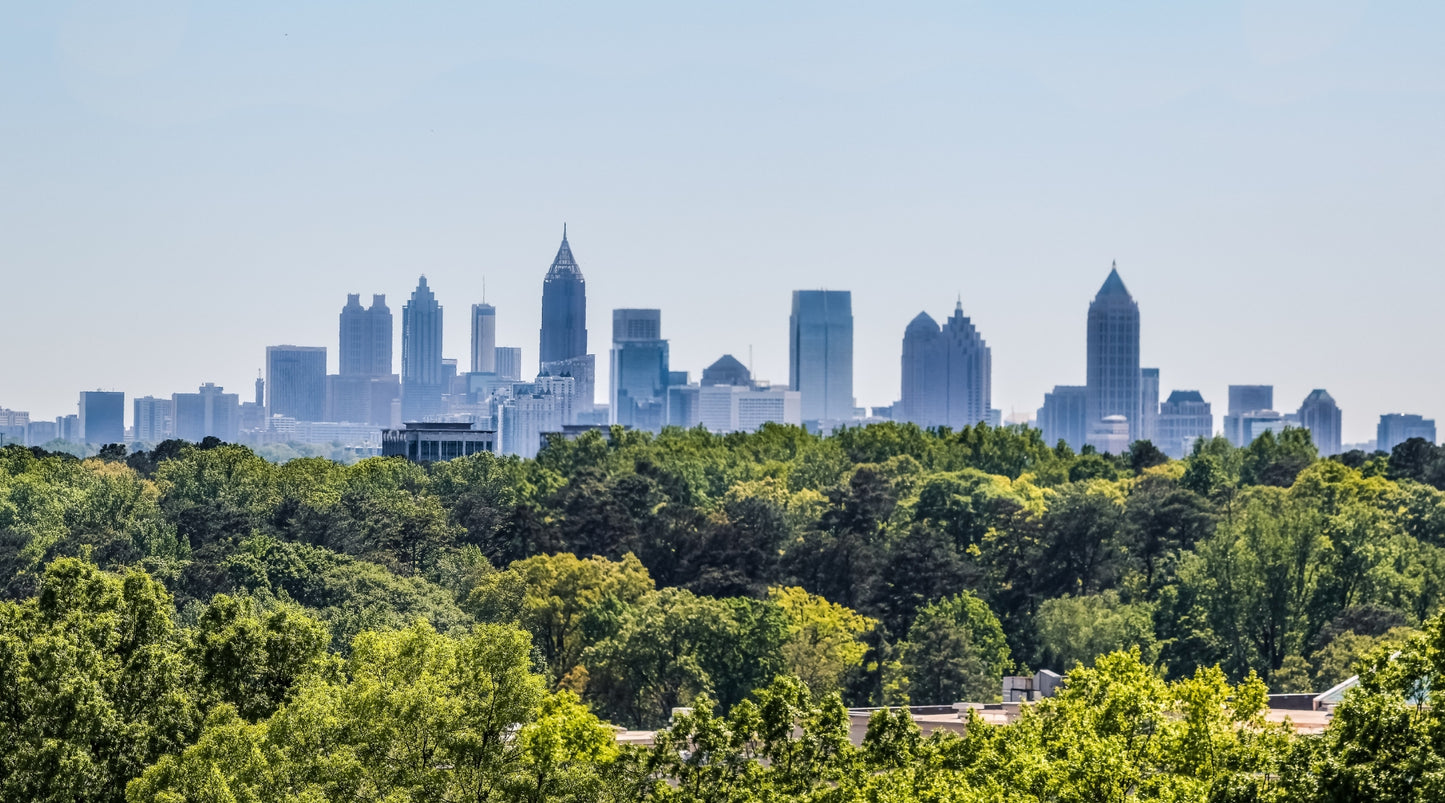 Why We Love Atlanta (and Why You Will Too) 
Atlanta, the South's long standing economic and cultural capital, truly lives up to its nickname: Empire State of the South. 
Despite unbridled ambition, Atlanta maintained its Southern soul and one of a kind culture—a wonderful melting pot of diverse backgrounds and cultures. If you're from outside the region, or haven't visited in awhile, you may have missed how much Atlanta has to offer. 
The city is truly dynamic and perpetually evolving. Atlanta is our home and, in the spirit of Southern Hospitality, it is our pleasure to show you around our city.
The Basics: When to Go, What to Know 
When to Visit Atlanta
Atlanta enjoys pleasant weather 9 months of the year. Winters are mild and the summers aren't as hot and humid as people think. 
The best times to visit are April-June and September-November. 
Traffic Isn't that Bad & Other Things to Know About Atlanta
Traffic really isn't that bad

. You're in a large city, so some traffic is inevitable, but its reputation is undeserved. Having lived in Chicago and New York, Atlanta traffic is comparatively nothing.  
It's not a suburban wasteland. Yes, there's suburban sprawl like any major metro, but

traveling around ITP (inside the perimeter) is fairly seamless

. Unlike comparable cities with

unchecked zoning

and

cookie cutter development

, Atlanta's an architecturally and physically beautiful city. 
Atlanta is the most heavily forested urban area in the country. Our "City in a Forest"

has gorgeous parks, wild rivers, & outdoor activity in abundance. Visitors are often shocked by how green it is.  
Atlanta's continually evolved to produce a fascinating melting pot of diversity, cultures, & neighborhoods—reflected in its world-class dining, entertainment, & cultural options that fit every taste and make it the best city to live in America.
Read on to discover the best restaurants, things to do, and places to stay in Atlanta.
Best Atlanta Neighborhoods & Where to Stay 
Buckhead 
The Beverly Hills of the South is the region's wealthiest zip code. You'll find jaw dropping estates and sophisticated hotels, retailers, & restaurants that cater to a high-class clientele. 
St. Regis Buckhead 
What: Timeless luxury, chandeliers and marble, and afternoon tea. Glimmering Pool Piazza is a place to see and be seen.  
Address: 88 West Paces Ferry Road, Atlanta, GA 30305
Phone: (404) 563-7900
The Burgess Hotel Buckhead 
What: Luxury boutique hotel with an attention to detail. Original art, custom furniture, and a warm experience. 
Address: 3600 Piedmont Road NE, Atlanta, Georgia 30305
Phone: (404) 869-1100
The Whitney Hotel Buckhead
What: Charming and sophisticated, The Whitley blends traditional southern grandeur with cosmopolitan style.
Address: 3434 Peachtree Road NE, Atlanta, GA 30326
Phone: (404) 237-2700
Midtown 
The heart of Atlanta. Vibrant, innovative, and walkable. This bustling epicenter of business and culture also features the grand greenspace Piedmont Park, Atlanta's version of Central Park.  
Four Seasons Midtown 
What: Modern luxury with impressive skyline views and ideal location within walking distance of High Museum of Art & Piedmont Park.
Address: 75 14th Street NE, Atlanta, GA 30309
Phone: (404) 881-9898
The Georgian Terrace Hotel
What: This iconic Atlanta hotel features 1911 beaux-arts architecture, luxury rooms, and speakeasy cocktails. 
Address: 659 Peachtree St. NE, Atlanta, GA 30308
Phone: (404) 897-1991
Stonehurst Place Bed & Breakfast
What: Once a 19th century family home, now Atlanta's finest luxury bed & breakfast. Curated artwork, classic decor, "like staying at your favorite rich aunt's house but you don't have to hang out with her."
Address: 923 Piedmont Avenue NE, Atlanta, GA 30309 USA
Phone: (404) 881-0722
The Beltline: Old Fourth Ward/Inman Park
A revolutionary idea connecting intown neighborhoods by an electrifying network of trails and greenspace. Making this walkable area the inspiring center of city culture, development, and cool.
Hotel Clermont 
What: Clermont Lounge is a quintessential Atlanta institution. Capitalizing on its famous reputation and ideal location, they added a hip design-centric hotel with one of the city's best restaurants and rooftop bars. 
Address: 789 Ponce De Leon Ave, Atlanta, GA 30306 USA
Phone: (470) 485-0485
Wylie Hotel 
What: "The Friendly Hotel" is a modern boutique with historic surroundings. Boasting bespoke rooms, Beltline walks, and Ponce City Market views. 
Address: 551 Ponce De Leon Avenue, Atlanta, Georgia 30308
Phone: (470) 437-4400 
The Darwin Hotel 
What: Appeals to the adventurous, bold, & creative with a hyper-local approach to hospitality. Pet-friendly hotel gives visitors a deconstructed cocktail upon arrival. 
Address: 585 Parkway Dr NE, Atlanta, GA 30308
Phone: (404) 260-1383
Where to Eat
Atlanta's extraordinary culinary scene has too many riches to list. Each neighborhood features excellent restaurants, so we recommend exploring on your own. But here's some hand-picked inspiration to get you started... 
Atlanta Restaurants 
The Optimist 
Seafood (West Midtown) 
Some of the city's best seafood in an industrial-chic former warehouse. Fine dining meets a fun atmosphere with a great outdoor patio. 
Sotto Sotto
Italian (Inman Park) 
Redefined Italian dining in the city and remains the reigning champ. Classic setting offers the familiar sophistication you want from Italian fine dining. 
Bones
Steakhouse (Buckhead) 
Atlanta's most iconic steakhouse is the place for old-school power brokers, exceptional service, and the city's best martinis & steaks. 
El Tesoro  
Mexican (Edgewood) 
Great Mexican food, strong margs, and a large outdoor space make El Tesoro an ideal weekend afternoon destination. 
The General Muir 
Breakfast, Deli (Emory Point) 
A modern take on the classic New York Jewish deli. A top breakfast spot and the city's best reuben & pastrami. 
Cypress Street Pint & Plate
American, Burgers (Midtown) 
Cypress is hard not to love. Great for beers and food. Lively yet comfortable. Midtown professionals and Georgia Tech students. Cypress is a crowd pleaser for all tastes. 
Glide 
Pizza (Old Fourth Ward, Decatur) 
After a decade mastering his craft in Brooklyn, Atlanta native Rob Birdsong came home to deliver the best pizza in the city. Premium New York style pizza offers slices and whole pies. 
Staplehouse Market
Contemporary (Old Fourth Ward) 
Exquisitely innovative southern dishes, pizzas, pastries, charcuterie, wine, coffee, & more with convenient counter service and cozy al fresco dining. Named among the world's top 50 restaurants, Staplehouse has a compelling story and benefits the not-for-profit Giving Kitchen.
Atlanta Food Halls 
You'll find good food halls in renovated spaces across the country. But no city does them better than Atlanta. These mixed-use destinations offer exceptional dining options, trendy shops, invigorating libations, and much more in prime locations. 
Ponce City Market 
(Old Fourth Ward) 
Opened on The Beltline at the same time as neighboring Krog Street Market, Ponce is the crown jewel of the city's food hall boom. This historic building offers a glimpse into Atlanta's past and its innovative future. Eats offer a taste of Atlanta's best. Shops offer familiar brands to leading local designers like Elk Head. The rooftop features unbelievable views along with dining, drinks, & entertainment. 
The Krog District
(Inman Park) 
A short walk from Ponce along The Beltline, Krog was named "one of the world's best food halls" by Travel and Leisure. Features award-winning dining for every taste. From award-winning BBQ to fresh sushi, Tex Mex and everything in between. Prime outdoor patio to enjoy a bottle or brew from the adjacent wine shop. 
The Works 
(Westside) 
The Works has quickly emerged as a challenger to Ponce & Krog on the city's booming Westside. Includes an array of culinary riches, like Fox Brothers—Atlanta's best BBQ. As well as one of Atlanta's best breweries, Dr. Scofflaws. The always fun entertainment/dine/drink option, Your 3rd Spot, offers a comprehensive night out.  
What to Do
Atlanta's best for outdoor activity, nightlife, & cultural destinations.  
Outdoor Activity 
The Beltline
(Old Fourth Ward, Inman Park) 
As mentioned previously in this post, The Beltline revolutionized the city's layout and delivers a quintessential Atlanta experience. Traveling the path—by foot, bike, or scooter—is a visual spectacle of people watching, artwork, and greenspace. Along the way, you can explore countless dining & drinking options—as well as destination food halls Ponce and Krog.
Piedmont Park
(Midtown) 
Atlanta's "Central Park" is a 200+ acre greenspace in the heart of the city. Hosting over 6 million visitors per year, the park provides ample space for recreation (or day drinking). Features the Atlanta Botanical Garden, a top destination in its own right, and great dine-drink spots like Park Tavern. 
East Palisades Trail
(Buckhead) 
Picturesque outdoor hub located on the beautiful banks of the Chattahoochee River. Enjoy hiking through a bamboo forest, kayaking rapids, or "shooting the hooch" on a sunny day. Conveniently located in north Buckhead. 
Truist Park & The Battery 
(Smyrna)
Home of the 2021 World Series champions Atlanta Braves, you'll quickly see why the classic meets modern Truist Park is among the best attended in baseball. The surrounding Battery provides exemplary dining, entertainment, & drinking options for baseball fans and non-fans alike. 
Nightlife 

The Tabernacle
Music Venue (Downtown) 
Atlanta's version of Nashville's famed Ryman Auditorium. A converted church with excellent acoustics and intimate shows has hosted some of the world's biggest acts. Beloved by music lovers everywhere and the city's best venue. 
Clermont Lounge 
Strip Club (Old Fourth Ward) 
Atlanta's most notorious watering hole provides a "unique" strip club experience unlike any other. If this is your first time in ATL, consider this your initiation. Read the link below to learn the rules, traditions, and know-how to get the most from your visit to this legendary institution. 
Sister Louisa's Church of the Living Room & Ping Pong Emporium 
Bar (Old Fourth Ward) 
Part of what makes Atlanta special is that it embraces its unique quirks, eccentricities, & funky vibes—whereas other ambitious cities would likely sweep them under the rug. Clermont and "Church," as it's affectionately known, are perfect examples. This iconic bar is a must. 
Blind Willie's 
Music Venue (Virginia-Highland)
Named "Blues Club of the Year," Willie's features live blues music six nights a week. It's also in the heart of Virginia-Highland—one of Atlanta's best neighborhoods—surrounded by lively bars, top restaurants, and pretty streets with historic bungalow houses. 
The Garden Room 
Cocktail Lounge (Buckhead) 
If dive bars and strip joints aren't your thing, that's ok, there's plenty of elegant nightlife to suit your fancy. Garden Room is one of many classy cocktail destinations in the city. This enchanting garden oasis serves exquisite libations in the swanky St. Regis Buckhead.
Arts & Culture 
High Museum of Art 
Museum (Midtown) 
Considered the leading art museum in the Southeast. High's collection of over 18,000 pieces is supplemented by internationally renowned exhibitions. Recent examples include Monet, Van Gough, and a 3-year partnership with the Louvre to display some of its collection. 
The Center for Civil & Human Rights
Museum (Downtown) 
This museum and human rights organization preserves the crucial historical events of the Civil Rights Movement through exhibitions, artifacts, stories, and educational programs—both virtual and on-site. As the birthplace of Dr. Martin Luther King Jr., Atlanta was significant in shaping the Civil Rights Movement—and American history.
College Football Hall of Fame 
Museum (Downtown) 
As the leading destination for SEC grads, Atlanta is the college football capital of the world and natural home for the CFB Hall of Fame. With nearly 100,000 square feet and an indoor football field, this interactive museum is the college game's greatest shrine.