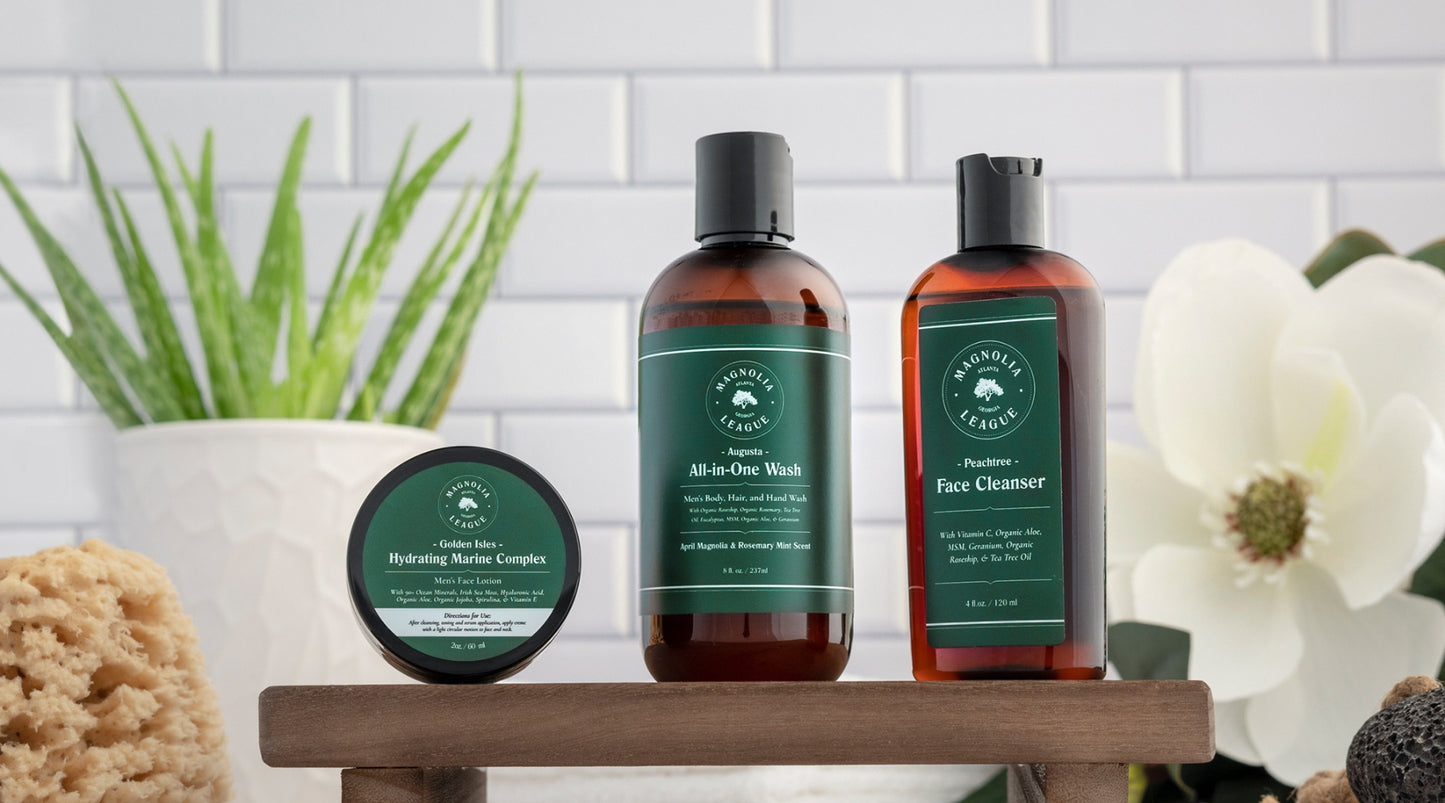 Clean Skincare: What it is and Why it Matters
In short, clean means products formulated without synthetic chemicals and ingredients that could harm your body or irritate your skin. Several trends increased awareness, research, and demand for clean skincare:
Rise in consumer consciousness—knowing what's in your products, where they come from, and the personal & environmental impact. 
Clean can be hard to define. There's no single source of truth mandating which ingredients must be banned in clean formulas. However, these trends led to more scientific studies, information availability, and comprehensive guidelines. 

Though "clean" is interpreted differently, it's now clear which ingredients to avoid and why. Here's why clean skincare deserves your attention:
Your Health:

Slathering toxic chemicals on your body can lead to serious health issues such as reproductive failure, lower testosterone, cancer, liver failure, and many more issues.
Your Skin:

Harsh ingredients can cause excess dryness, irritation, allergic reactions, and skin conditions—such as acne, rosacea, eczema, & more. 
The Environment: Products impact the earth long after being manufactured. After disposal, chemicals can pollute the environment; damaging the ocean ecosystem

, for example
Keep reading to learn which ingredients to avoid, how clean skincare benefits you, and a complete overview of our clean commitment.
Why Clean Skincare Matters for Men
As we've written about before, men are facing an unprecedented health crisis. Let's start with some alarming stats:
Sources

say

men are exposed to over 120 unnecessary chemicals daily

, on average. 
According to

dermatologists

,

experts

, and scientific

studies

, harmful effects of toxic chemicals include: hormone and endocrine disruption, reproduction toxicity, lower testosterone, lower sperm counts, various forms of cancer, skin irritation, allergic reactions, inflammation, liver damage, and much more. 
If these stats didn't grab your attention, read on to discover why clean skincare is extra important for active men like you. 
Why Clean Skincare Matters for Active Men 
I started caring about clean formulas while training for my first Ironman. To optimize health and performance, I tracked everything I put in my body—diet and personal care products—and was shocked by what was in my medicine cabinet.
Common toxins like parabens, sulfates, & phthalates were everywhere in my personal care. But it didn't stop there. 

Chemicals like formaldehyde, a known carcinogen, and dibutyl and diethylhexyl phthalates, which disrupt hormones and harm the reproductive system, are in many skincare products and unregulated in the US (they're banned in Europe). 

I was slathering these all over my body's biggest organ—my skin—which is 20-25% thicker than women's skin on average. It was time for a change. 

Harmful ingredients not only caused skin problems they supposedly solved—but also damaged athletic performance, testosterone production, fertility, and increased risk of major health problems.
Magnolia League Standards

What It Means: Magnolia League's Clean Commitment
Clean Formulas: we work tirelessly with derms, chemists, and clinical scientists to formulate without toxic, harsh, allergenic ingredients. Avoiding ingredients listed on EWG's "Unacceptable List." 
Paraben-Free, Sulfate-Free, Phthalate-Free: toxic ingredients commonly avoided in clean beauty. We avoid these ingredients—and many more. Read on for a full list of what our clean formulas do not include.
Certified Organic: all our products contain at least 70% certified organic ingredients. We can make this claim as our ingredients are audited by major certifiers such as Oregon Tilth & Organic Alliance Inc. This is not only better for you but also the earth. Ensuring toxic chemicals aren't harming the ecosystem after disposal.
Cruelty-Free Promise:

Magnolia League is a cruelty-free brand. We never test on animals during development or production—or allow third parties to do so. The majority of our formulas are vegan—not containing any animal or animal-derived ingredients.
What It Means: Magnolia League's Sustainability Commitment 
Sustainable Raw Materials: We formulate all products using sustainable raw materials. Ensuring no wasteful energy during production and, when the product is disposed of, it won't further pollute the environment.
Made in America: We partner with the most credible suppliers and raw materials manufacturers who are located as close as possible to our Atlanta HQ. Our primary manufacturing facilities are in Florida while our packaging supplier is also in Atlanta.
Good Manufacturing Practice (GMP) Certified: GMP is the global standard to ensure products are safe and contain the ingredients and strength claimed. GMP minimizes risks, optimizes safety, and ensures quality in pharmaceutical/cosmetic products.
Clean for Your Skin & the Earth:

Non-toxic formulas don't just benefit you, they're better for the environment. We use pure ingredients from the earth, which return to the earth sustainably—

opposed to damaging it with toxic chemicals

.
The Magnolia League "No List"
A comprehensive list of ingredients we avoid to formulate with the highest clean standards for optimal safety, efficacy, & sustainability: 
Ammonium lauryl sulfate: linked to harmful carcinogens which can lead to kidney damage and hormone disruption.
Animal testing: we don't test on animals during product development or production— nor do we allow any third parties to do so with our products. 
Ethanolamines (MEA/DEA/TEA): the most serious concern about these ingredients is they may increase risk for cancer, especially after long-term use.
Formaldehyde: a highly toxic gas (common in personal care products) that has been shown to cause cancer in studies.
Formaldehyde releasing agents: formaldehyde is typically not listed as an ingredient, listing releasing agents or "donors" instead.
Methylchloroisothiazolinone (MCT): a widely-used preservative that has been associated with allergic reactions.
Methylisothiazolinone (MIT): a widely-used preservative that may be highly allergenic and toxic.
Oxybenzone: popular chemical sunscreen ingredient that may disrupt hormones, sexual health, and metabolism.
Parabens: a hormone disruptor that can cause allergic reactions, skin rashes, and disrupt the way your body works.
Phthalates: can irritate your skin and negatively affect hormones. They may damage sperm, increase premature delivery, cause genital defects, and lower testosterone. Phthalates can also be a trigger for those with allergies or asthma.
Sulfates (SLS/SLES): an irritant that can dry up your skin. Causing acne, eczema, itchy scalp, and may increase risk of cancer.
Synthetic colors and dyes: chemical additives used to color products. Contains toxins that may significantly increase sensitivity and irritation—leading to breakouts, dryness, or thyroid tumors.
Synthetic Fragrance: though there are safe fragrances (read next section), synthetics are the leading cause of skin irritation and contact dermatitis in personal care products.
Triclosan: banned in the US as antibacterial agents in hand soaps and sanitizers, Triclosan contains toxins that may disrupt hormones and reproductive health.
Understanding Misunderstood Ingredients
During the risk assessment phase of our clean standards, we thoroughly reviewed current research and data to determine which ingredients make the cut for our products.
We carefully added ingredients and their concentrations based on exposure scenarios, testing and safety data to provide you with a product that meets our clean standards.
Here's why the following commonly misunderstood ingredients was determined safe in our products:
Fragrance:

though synthetic fragrances are on our "no list," our use of the term refers to naturally derived scent ingredients that sustain our clean standards.

Magnolia League uses only essential oils and natural fragrances, free from parabens and other irritating chemicals, as our scents. 
Though you should certainly avoid some preservatives, they're necessary to kill and prevent the growth of microbes in any product that contains water.
Resources Used: