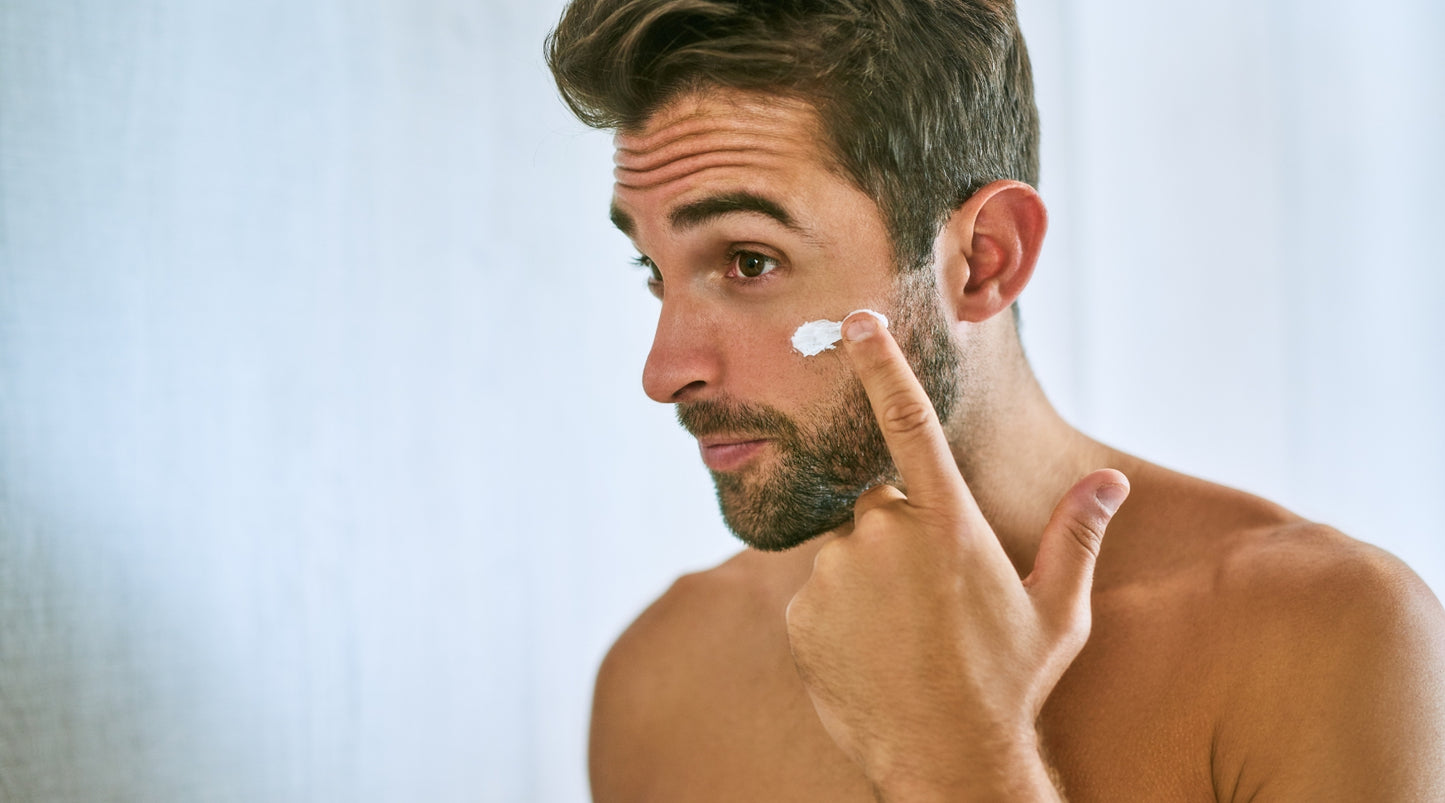 A good moisturizer may be the best ROI in men's skincare. It's one of the easiest ways to keep your skin looking and feeling its best—with minimal time and product investment.
"The interesting thing about skin for men is that it often takes very little to make a big improvement…moisturizing twice a day makes such a huge difference," says Kathleen M. Welsh, M.D., a San Francisco-based dermatologist. 
A high-quality moisturizer provides ample benefits such as: 
Anti-Aging: Keeping your skin young, firm, and toned. 
Fight Acne: Balancing oil production to keep your skin clear. 
Healthy Glow: Providing a natural, glowing complexion. 
Protect: Helping to protect against damaging free radicals and environmental stressors.
Keep reading to learn how moisturizing fights the biggest skin problems faced by men.
How Moisturizing Fights Acne, Dry Skin, & Early Signs of Aging
Problem #1: Acne 
Problem: 

Balancing skin's natural oil production. Unbalanced oil production can lead to excess oil, blocked pores, and poor skin texture. 
Problem #2: Dry Skin
Problem

: Excessively dry skin compensates by producing excess oil to bolster the skin's barrier function. This can lead to blocked pores and breakouts.
Problem #3: All-Season Protection
Challenge

: Cold air, harsh winds, low humidity levels, and dry indoor heat

during winter strip the skin's moisture

. In summer—greater sun exposure, chlorine-filled pools and air conditioning often results in dryness.
How Moisturizing Helps

: Moisturizing allows the skin to rehydrate and combat the elements. Giving you healthy skin in all seasons. 
Problem #4: Preventing and Repairing Signs of Aging Like Wrinkles 
Problem:

Men face a tough battle against pollutants and time. The skin is the largest human organ and exposed to numerous pollutants each day. Over time, your protective barrier wears down. Causing signs of aging, inflammation, and other skin issues.
How Moisturizing Helps: Moisturizing improves your skin's defenses against environmental factors and signs of aging. An effective moisturizer does this by filling pores with protective antioxidants and age defending nutrients—like vitamins, minerals, & amino acids. These nutrients boost collagen production to keep your skin's youthful glow. Moisturizing also fights wrinkles rejuvenating your skin to look and feel younger. By trapping water in the skin, development and appearance of fine lines is limited.
If you've been missing out on the many benefits of moisturizing, get started today!   
Sources Used
Tools of Men, 

"Why Men Should Moisturize."

UT Medical Center, 

"Importance of Moisturizing."

Men's Health

, "Moisturizing 101."

Dermstore.org, 

"The Health and Beauty Benefits of Spirulina."

Well and Good, 

"Tapping into the Ocean's Power, 'Blue Beauty' Has Become the Gold Standard in Skincare."

Phytomer

, "Benefits of Marine Skincare."

Cleveland Clinic, 

"Hyaluronic Acid: What It Is, Benefits, How to Use & Side Effects."