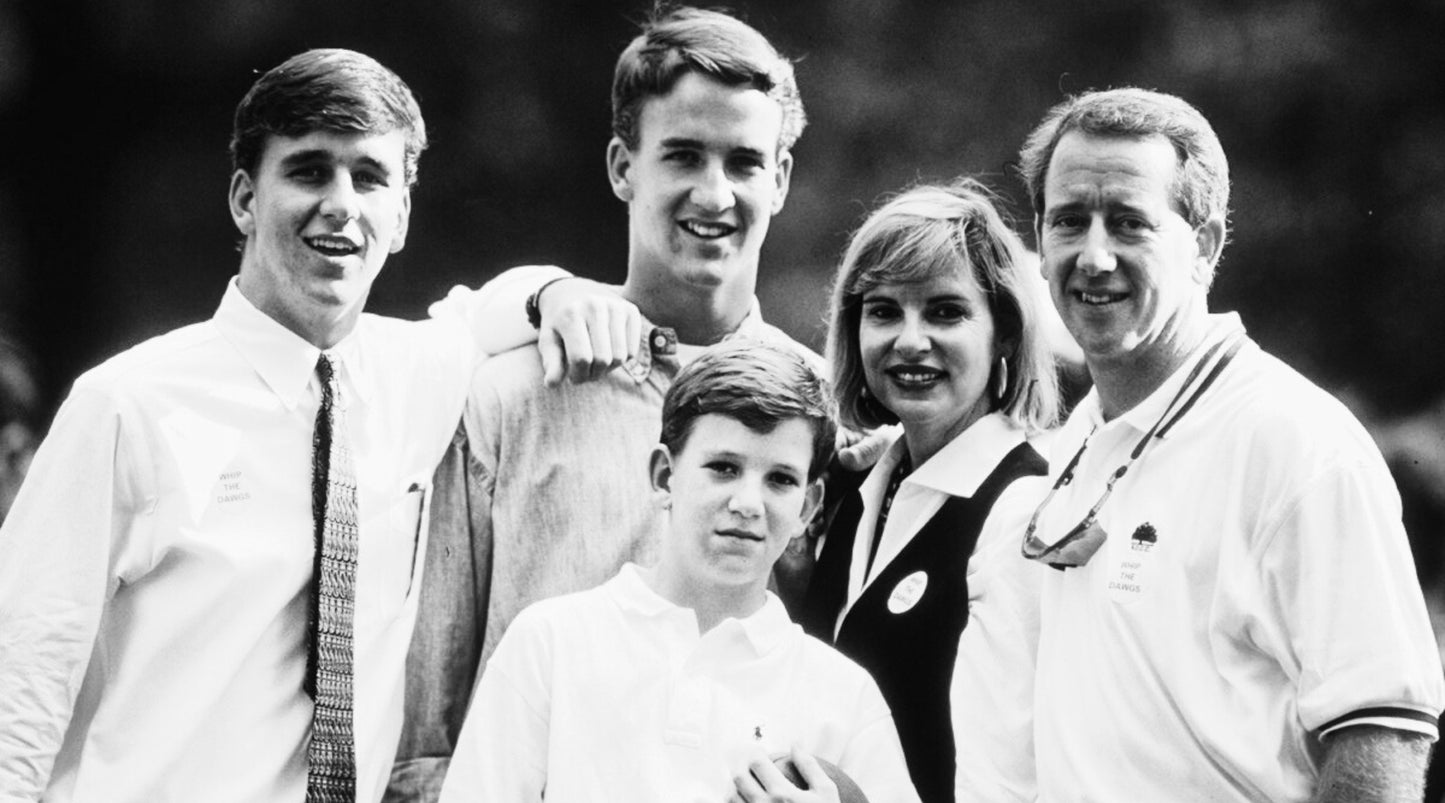 The Moment That Changed Everything
At 20 years old, Archie Manning was in a world of hurt. He was the star quarterback at Ole Miss. The Golden Boy on top of the world the summer before his junior year.
His world crashed down when he found his father dead by suicide. 
His father, Buddy, had love and pride for Archie. But had trouble showing it. Now he never would. Buddy's workaholism led to missing his son's games. Now he'd miss his son's legendary career at Ole Miss and the New Orleans Saints—and the enduring Manning legacy.
How Archie responded was pivotal to who he became as a man, father, and patriarch of America's first family of football royalty. 
Archie's story is full of lessons you can apply to your own life—as a father, and a man: 
Turning our biggest challenges into a force for good. 
Encouraging your kids to blaze their own trail—while never forgetting their roots & core values. 
Lead by example and honesty. 
Read on to discover the compelling origins story of the "Book of Manning."  
The Manning Legend Begins
Archie was at a crossroads. He nearly quit football to return to the family farm. But his mother wouldn't allow it. 
Archie could have let pain become a destructive force. But he used tragedy as a force for good. 
Archie went on to a distinguished football career and became the father he never had. The stable force, guiding figure, and unconditionally loving dad to his three boys: Cooper, Peyton, and Eli.
Fatherhood Goals: Raising Great Kids, Not Great Quarterbacks
Archie didn't force his dreams on his boys or turn them into a vanity project. Archie's philosophy of child-rearing was NOT to raise great quarterbacks. It was to raise happy, productive, good kids. And, so far as we can tell, he has succeeded. 
Instead, he instilled unwavering principles that empowered their own unique paths. When Peyton was the #1 high school recruit, many thought he'd follow Archie's path to Ole Miss. But Archie encouraged Peyton to blaze his own trail. 
When Peyton chose Tennessee, Archie knew he'd catch flack from the Ole Miss community. But his son's happiness was all that mattered. 
Through the pure love shared between Archie, his wife Olivia, and their three sons—Archie healed from his painful past. Nothing brought him more joy and purpose than fatherhood.
The Book of Manning 
The way Archie watched his sons' games is telling. Knowing cameras would seek him out during Peyton and Eli's games, Archie dressed incognito to enjoy the game without putting attention on himself.  
He was usually discovered around the 3rd quarter but the message was clear: Archie didn't want viewers focusing on past glory days, making comparisons, or reinforcing the "big shoes to fill" expectations. 
He wanted his kids to write their own chapter in the Book of Manning. Although, naturally, traits pass down from father to son. Quarterbacking ability and sense of humor. For example, here's Eli wearing a disguise of his own for a prank walking on at Penn State:
Tragedy Can Be Fuel for Greatness, or Destruction

We often forget what it takes to achieve greatness. It takes a nearly inhuman drive. It takes immeasurable sacrifice and perseverance in the darkest hours. 
We look at top athletes, actors, or entrepreneurs and assume their innate talent opens a quick, linear path to greatness. But that's never the case. 
To undergo that journey, which few even attempt, requires an incessant drive—often born from extreme circumstances. A moment that splits your life in two; that shows you what's on the inside.  
Archie used his pain to achieve greatness. As a football player, sure, but as an even greater father. 
As a result, he's the patriarch in America's first family of football. His greatness as a father empowered his children to do the same—in their own unique ways.
The Next Chapter
With Cooper's son Arch competing for the University of Texas, and Peyton's 11-year old son displaying his own gifts, the story continues in the next generation:
We honor men like Archie Manning on Father's Day and hope you'll take away some of these life lessons: 
Turn tragedy into gold, follow your own path, and empower your children to do the same.