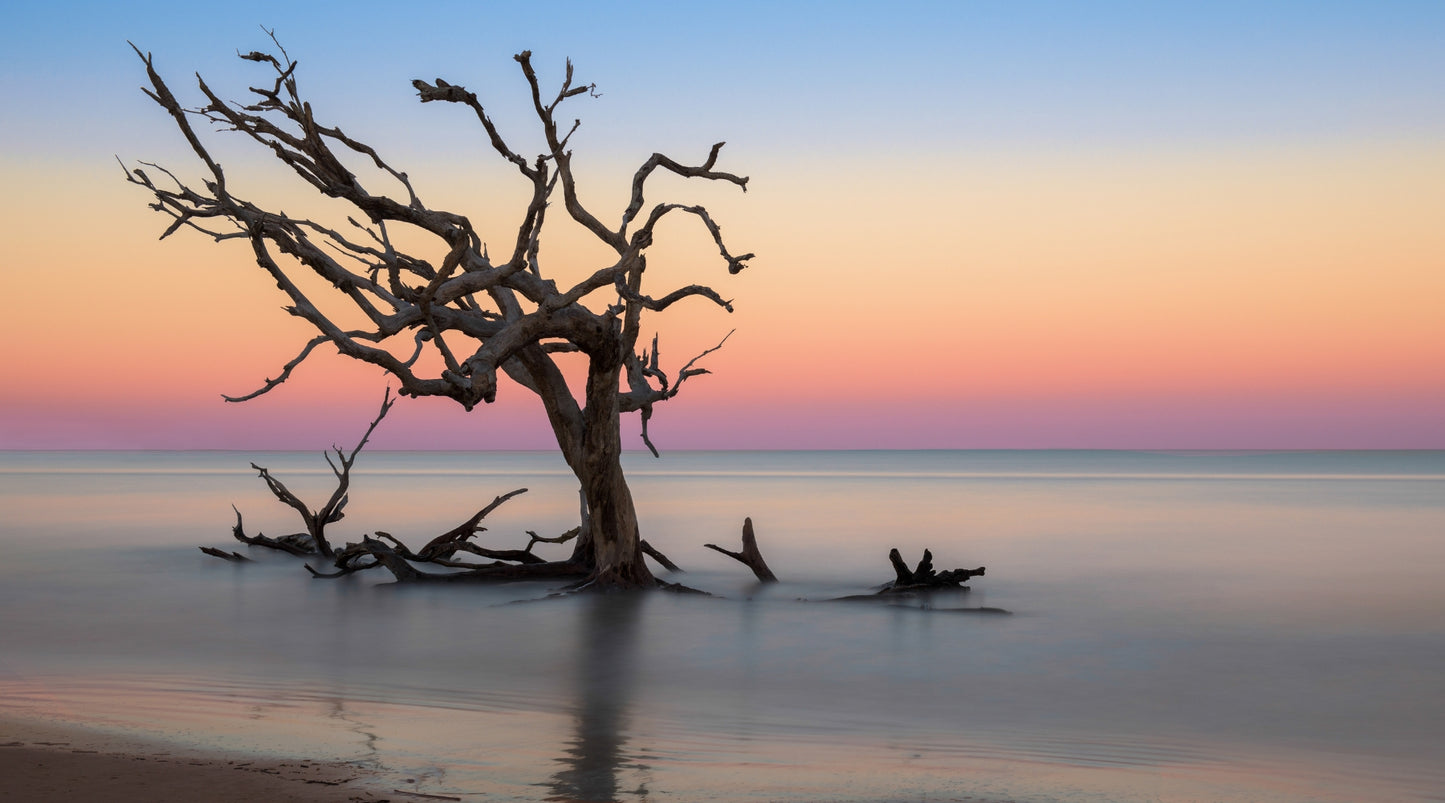 Midway between Jacksonville and Savannah exists Georgia's beach treasure, the Golden Isles. Contrasting rugged oceanic beauty with refined Southern hospitality, it's no wonder Travel & Leisure lists the Golden Isles among the best islands in the US. 
They hold a special place in U.S. history and the hearts of devoted visitors who return every year. 
Each island has its own personality and vibe. Watch this teaser to set the tone and keep reading to discover all the Golden Isles have to offer:
Sea Island: Unparalleled Luxury & Hospitality
Sea Island is the only resort in the world to achieve four Forbes Five-Stars thirteen years in a row. Its peerless hospitality has attracted a roll call of U.S. Presidents—George Bush honeymooned here and his son hosted the G8 summit here in 2004—and business titans like Elon Musk and Tim Cook.
I came here on my own honeymoon. The entire staff knew who us by name, congratulated us, and ensured our experience was special. You have a dedicated butler during your stay. 
The abundance of sporting & leisure activities ensure there's something for everyone. Enjoy world-class oceanside golf, sporting clays, hiking & biking, the 65k square foot spa, lounging at the famous beach club, and much more. 
Sea Island Vibe
Refined, peerless luxury. Old-line Atlanta families and those outside the region who want Masters style Southern hospitality.
Where to Stay in Sea Island
The Cloister: Larger and more family friendly; what many imagine when they think of a 5-Star luxury beach resort. The original hotel was built in 1928.
The Lodge: Smaller and more intimate. Resembles an English hunting lodge. Better fit for couples and guys trips. Sipping scotch while the bagpiper plays at sunset is a special experience. Opened in 2001. 
What To Do in Sea Island 
Quite literally something for everyone in the family. World renowned for its three famous golf courses and Beach Club. Also exceptional facilities for hunting and shooting, sailing, fishing, tennis, falconry, biking, boating, fitness, horseback riding, fitness, spa, & much more! 
Where to Eat in Sea Island 
Resort: Dining for all tastes ensures you never have to leave. From fine dining to casual poolside fare and fresh seafood. The Men's Locker Room is one of the best in golf to enjoy a post-round cigar and cocktail. Colt & Alison is the quintessential steakhouse for "going big."  
Outside Resort (St. Simons): Southern Soul BBQ is an iconic spot you must try for some of the South's best BBQ. Porch has some of the best hot chicken outside Nashville, and I lived in Nashville for 4 years. Be warned—Porch's Napalm heat is the hottest you'll ever try! 
Little St. Simons: "Where Nature is the Luxury" 
If the Golden Isles were ski towns—Little St. Simons is like Whitefish, MT whereas Sea Island is more like Aspen. Little St. Simons offers exceptional luxury but caters to those who appreciate more rugged and remote locales.
LSS is, by far, the smallest of the four islands. It has one place to stay where guests are capped at 32 and share family-style meals each night. The 11,000 acres of untamed wilderness provides an exceedingly rare level of privacy, intimacy, and natural discovery—that makes the island special.
Little St. Simons Vibe
Rustic, private, and natural. LSS prides itself on green practices and nature preservation. Think staying at a remote luxury ranch in Montana or an eco retreat in the Costa Rican rainforest (but in a low country beach setting, of course).
Where to Stay in Little St. Simons
Guests stay in cottages centered around a historic 1917 hunting lodge surrounded by centuries-old live oaks. 
The stay is all-inclusive and provides 3 expertly crafted meals per day. Though nature rules the day, hospitality is top-notch and you'll enjoy every modern comfort needed.
What To Do in Little St. Simons
"It is our mission to provide unparalleled experiences in the natural world." Fishing, hiking, biking, birding, day trips, beach adventures, and more—led by the passionate naturalists on-site. 
Guests can also enjoy a more relaxed pace. Laying out by the beach, saltwater pool, swapping stories with family and new friends while taking in the spectacular surroundings.
Where to Eat in Little St. Simons
Guests enjoy three farm fresh meals per day made by expert chefs with ingredients from the Island Garden and Orchard. 
Meals represent the finest low country cuisine and optimize freshness with seasonal dishes.
Jekyll Island: Gilded History & Wide Open Beaches
Jekyll's modern history begins when General James Oglethorpe founded the colony of Georgia in 1733. It was then purchased by a group of the world's wealthiest families in 1886. It became a private Gilded Age retreat whose membership included Rockefellers, Morgans, and Goulds—collectively representing one-sixth of the world's wealth. 
Georgia purchased the land in 1947. Today it's one of the most popular Isles. Limited development preserves natural beauty and the critical barrier island ecosystem. Visitors enjoy natural treasures like: 10 miles of white sand beaches, Georgia Sea Turtle Center, dolphin sightings, & the iconic Driftwood Beach.
Jekyll Island Vibe
Well-Rounded mix of luxury resorts and family friendly beach hotels. Undisturbed lands make the marine ecosystem the star of the show.
Where to Stay in Jekyll Island
Jekyll Island Club Resort: Maintains the feel of a Gilded Age retreat, so you can live like a Rockefeller. Enjoy croquet on the lawn before poolside cocktails overlooking the ocean. 
Other Hotels & Camping: Jekyll offers a wide mix of hotels for every taste. You can also pitch a tent and sleep under the stars with 18 acres of wooded campground.
What To Do in Jekyll Island
The preserved coastline and marine ecosystem provide an abundance of outdoor recreation. 
Walk, bike, or ride horseback down the sandy beaches and trails. Discover wildlife at the Sea Turtle Center or dolphin tours. Learn the history and see the winter "cottages" of robber barons. Take in 63 holes of golf or hit at the tennis complex.
Where to Eat in Jekyll Island
Wide variety of options from beach casual to fine dining to fresh caught seafood. Fresh seafood and southern favorites at Beach House. Water views at Tortuga Jack's or The Wharf at Jekyll Island Resort.
St. Simons Island: Picture Perfect Moss-Draped Winding Streets
The largest barrier island of the Golden Isles. Immortalized in "The Marshes of Glynn" by poet Sidney Lanier. St. Simons embodies the live oaks and charm you'd hope to find in this region. St. Simons has a fascinating history that goes back before the Revolutionary War: 
The Bloody Marsh Battle site remembers the British soldiers who defeated Spain to protect colonial Georgia in 1742. 

The St. Simons Lighthouse Museum sits in a working lighthouse built in 1872. 

Christ Church, built in 1820, is one of the most photographed spots on the island. 
Beyond captivating historical sites—St. Simons has sprawling golden beaches, golf, excellent fishing, and the must-see Tree Spirits.
St. Simons Vibe
Postcard oaks with syrupy moss and golden sands dripping with history.
Where to Stay in St. Simons
Resorts: The King and Prince Golf Resort and newly-renovated Sea Palms Resort.
Boutiques and Bed & Breakfasts: Grey Owl Inn, Hotel Simone, Village Inn and Pub.
Rentals & Airbnb: As the largest island, there's ample rentals available for every need.
What To Do in St. Simons
Mix colonial Georgia history with sun drenched beach activities: 
History

: Bloody Marsh Battle Site, Lighthouse Museum, Christ Church, Cannon's Point Preserve. 

Beaches

: East Beach, Gould's Inlet, Frederica Park. 

Activities

: Golf, kayaking, biking, fishing.

World's Largest Outdoor Cocktail Party:

with its proximity to Jacksonville, thousands flock to

St. Simons each year to party before the big UGA-UF rivalry game

. Note: the beach party is not family friendly!  
Where to Eat in St. Simons
More options than the other islands. Personal favorites are Southern Soul BBQ and Porch. Barbara Jean's has phenomenal crab cakes. Georgia Sea Grill Wine Bar makes super fresh dishes prepared from ingredients harvested on a nearby farm. 
Like the other islands, fresh oysters and seafood are abundant.
Get Involved: Golden Isles Environmental Conservation Organizations 
Georgians are lucky to have this treasure in close proximity. While those outside the region know the experience is well worth taking the trip each year.
The emphasis on protected lands and sustainability is what preserves the natural beauty for generations to enjoy. Local organizations have done an incredible job protecting the marine ecosystem that makes this region so special. 
We encourage you to learn more about these organizations, the work they're doing, and get involved to help preserve Georgia's Golden Isles.