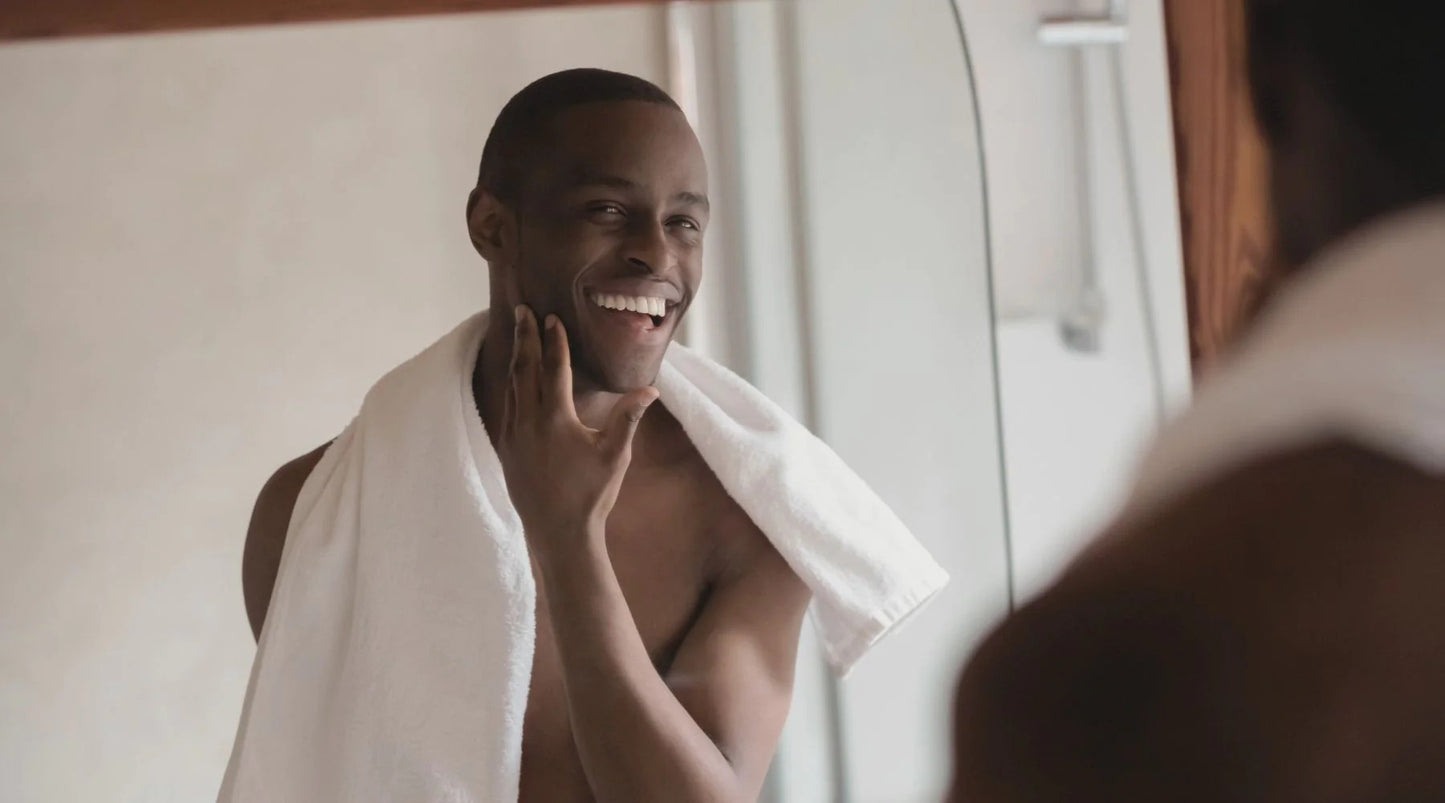 Historically, anti-inflammatory plants were used in ancient ceremonial rituals to heal wounds and prevent infection for warriors. Greek mythology says the legendary Achilles used the anti-inflammatory plant Yarrow (detailed below) to heal after battle, giving it the Latin name "Achillea Millefolium." 
Today, your skin fights a different kind of battle against free radicals, drying chemicals, and stressors that cause inflammation. Read on to discover what causes inflammation, why it matters, and the 10 best anti-inflammatory skincare ingredients: antioxidants (e.g. vitamin c), green tea, aloe, yarrow, vitamin E, calendula, gotu kola (centella), reishi mushroom, chamomile, sea buckthorn oil.
What Causes Skin Inflammation
According to Dr. Preema Vig, medical director of the Dr. Preema London Clinic, skin inflammation happens when something disrupts our body's natural immune system.
Inflammation could be caused by bacteria, viruses, injury, irritating products, or ingredients.
Lifestyle factors—such as diet, sleep, alcohol use, and sun exposure—can also cause skin inflammation. 
"Work hard play hard" sporting men should take note. High-stress careers, late nights at the office or watering hole, and sun-soaked days on the links can lead to damaging inflammation without proper treatment. Those with sensitive skin are particularly vulnerable to inflammation related skin issues. 
Inflammation Related Skin Issues
Skin inflammation has happened to all of us. An irritation or redness from an unknown reaction, puffiness after a night of cocktails, a burning sensation after a day in the sun. 
Inflammation is your immune system's response to skin injury. When the response goes from temporary to long term, inflammation can have damaging effects. 
Chronic inflammation can break down skin health—leading to severe dryness, damaged barriers, hypersensitivity, and breakouts. Skin conditions like rosacea and eczema come from dryness, redness, itching, and swelling often stem from chronic skin inflammation. 
Reducing Inflammation: What to Avoid
Know your skin. Avoid products with ingredients that feel harsh or irritating to you. Though reactions vary for each person, here's a list of ingredients dermatologists and medical professionals recommend avoiding to reduce inflammation:
Traditional Soap:

 switch to a cleanser with nourishing & hydrating properties as common bar and liquid soaps can leave your skin dry. 
Sulfates:

 

sodium lauryl sulfate (SLS) and sodium laureth sulfate (SLES) are synthetic sulfate-based chemicals that can cause irritation. Commonly found in liquid soaps, shampoos, and detergents to create lather.
Drying Alcohols:

 while some alcohols help reduce acne, ingredients like ethyl or denatured alcohol can dry your skin and cause inflammation.
Preservatives:

 

methylisothiazolinone is a common preservative used in wipes, shampoos, moisturizers, body washes, deodorants, & more. 

Researchers have found

 that many experience an inflammatory skin reaction in response to this preservative.
Harsh Exfoliants: though it's a good habit to exfoliate, "scrub" products with chemical exfoliants may be too harsh. Look for a clean product and start by exfoliating once per week.
Now that you know what to avoid, keep reading to discover the best skincare ingredients for reducing inflammation.
10 Best Anti-Inflammatory Skincare Ingredients
According to board certified medical dermatologist Dr. Adeline Kikam: treating inflamed, irritated, or sensitive skin gently - so it doesn't go into overdrive - is key. 
Inflamed skin needs to return to a state of balance. Dermatologists and other medical professionals recommend the following ingredients to reduce inflammation, calm your skin, and improve your skin's moisture barrier to restore balance:
Antioxidants

: potent antioxidants, like Vitamin C, are key to stopping free radical damage and other inflammation components. 
Aloe:

 

aloe provides superior hydration, enhances elasticity, and reduces inflammation while protecting your skin. 
Vitamin E:

 

stabilizes other antioxidants, protects & moisturizes, and accelerates skin healing. 
Gotu Kola (Centella):

 

the myriad benefits of Gotu Kola are well documented in 

scientific studies

; including the plant's rich source of phytochemicals known for powerful anti-inflammatory and wound-healing properties. 
Reishi Mushroom Extract:

 "mushroom of immortality" is an 

anti-aging powerhouse

 rich in antioxidants. Restores moisture, soothes skin, and reduces inflammation. 
Sea Buckthorn Oil: called the "unsung hero" of skincare, this super fruit stimulates cellular regeneration in epidermis while nourishing tissues in skin and body.
Why You Need Anti-Inflammatory Skincare
The sporting lifestyle means ample activity and exposure to the sun & other environmental stressors. After 18 holes—your skin sorely needs to hydrate, reduce inflammation, & restore balance. 
Look for high-performance products with the potent anti-inflammatory ingredients listed above—and ingredients that hydrate—to keep your skin calm, clear, and balanced for healthy skin.
Summary
Sensitive skin, harsh ingredients, and free radical damage (from pollutants, UV radiation, and other environmental factors) cause skin inflammation.
Chronic inflammation presents all kinds of problems for your skin: eczema, rosacea, breakouts, dryness, irritation, and more.  
Just as natural remedies healed Achilles' battle wounds centuries ago, healing ingredients—like aloe, vitamin C, calendula, yarrow, and chamomile—provide significant anti-inflammatory benefits. 
So you keep your skin balanced, calm, & clear to fight (and win) all your battles.
Sources Used