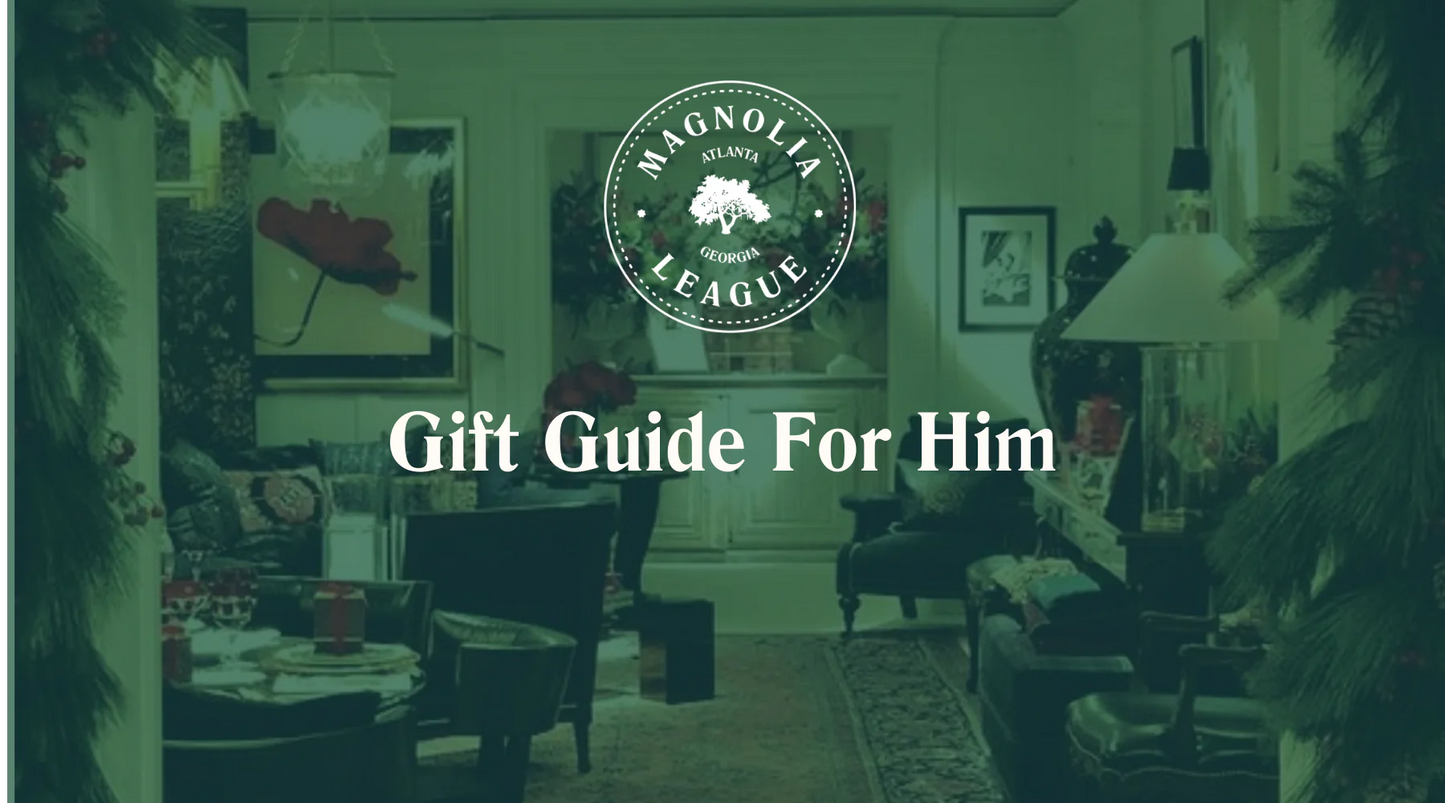 Magnolia League's Top 15 Gifts for Sporting Men
A simple routine men can adopt and enjoy for a lifetime. The Essentials are all the sporting man needs to look, feel, and smell their best - with products that fit their lifestyle. Includes Peachtree Face Cleanser, Golden Isles Hydrating Marine Complex, and your choice of All-in-One Wash.
Men of Magnolia League have sung the praises of this high quality wardrobe staple for years. For those unfamiliar, consider it Barbour for Southern sporting men. Premium hunt wear based in Birmingham.
Kentucky based Bluegrass Fairway has a whole collection of unique handcrafted golf accessories. Can't go wrong with anything from their collection - we love the scorecard holders and club covers.
Onward Reserve changed the game in apparel for the sporting lifestyle. Representing the finest threads for Thomasville quail hunts to Athens tailgates and Atlanta tee times - they have you covered. This cashmere sweater is a versatile piece you'll love for colder months.
MGC provides unique, well-made golf apparel products you'll love wearing on and off the course. Their collection is stylish and made with an eye for detail that Men of Magnolia League will appreciate.
Newly released Peach State Lite is a golden ale brewed for a refreshing and easy-drinking beer. The perfect accessory for UGA tailgates, Golden Isles beach days, Blood Mountain hikes - and everything in between.
Throughout the 12-18 month fermentation process, bundles of Kentucky fire-cured tobacco are pressed in Pappy Van Winkle bourbon barrels, imparting a unique flavor profile and aroma. Pairs well with spicier spirits such as rye.
Louisville craftsmen thought this long-standing tradition ought to continue outside of the stables. The Kentucky Belt is an equestrian classic, and a staple in your wardrobe. Their collection of fine leather goods features timeless gifts.
A single barrel whiskey distilled with excellence and integrity. Honoring the immortal Robert Tyre Jones Jr., golf's greatest gentleman and champion. Made by Bobby Jones' grandson with a portion of proceeds going to support Bobby Jones CSF.
Quality is the signature of Ball and Buck - makers of the best wear for upland hunting, sporting clays, and fishing pursuits. You'll enjoy the premium, moisture wicking fabric that maximizes breathability for all your outdoor pursuits.
Unparalleled construction, quality, and feel for golfers with a certain swagger (especially in this clover green). There's a lot of gloves out there, but you'll notice a difference with G/Fore's AA cabretta leather.
Like another ML favorite, Match South, Golf Ball Gallery offers tasteful aesthetics of your beloved golf memories. Cementing your favorite clubs, tournaments, courses, players, brands, and sports teams in your history.
Top shelf timeless leather goods that Teddy Roosevelt himself would love. Mission Mercantile hand selects US steerhides that bear their family name - a proud mercantile history beginning in early 20th century Georgia. You'll feel proud keeping your shotgun in their American-made #1 seller.
We're big fans of the creative passions of J. Earl & Sons, of @the.jep.life. Sporting men will love everything the shop offers. From premium glassware to rare and vintage bar tools that speak to impeccable entertaining and a life of adventures.
One of Sid's "favorite things he's ever made." Coming from the iconic designer that put Atlanta on the fashion map, that speaks volumes. He personally wears this light and simple piece twice a week - this is a special gift.